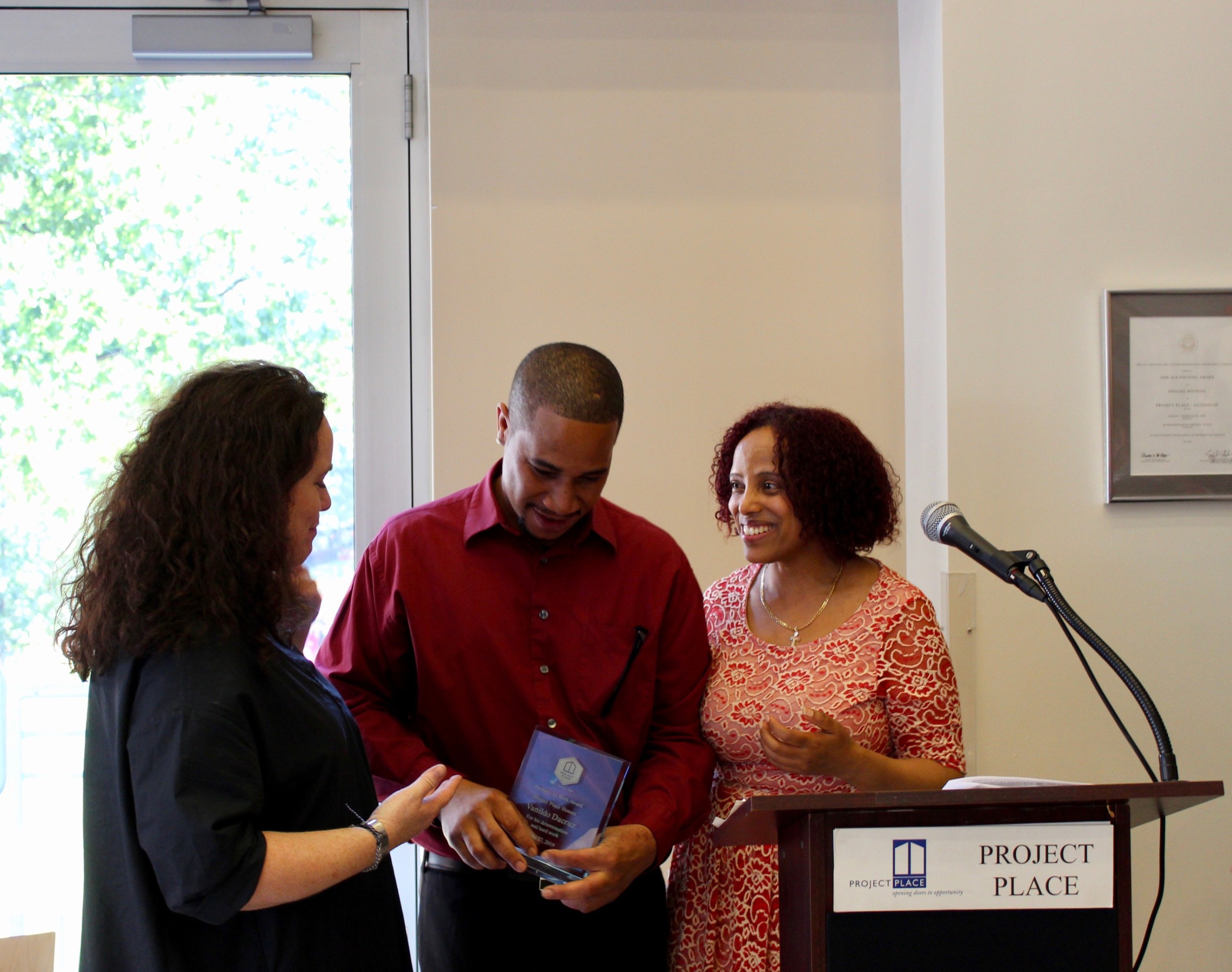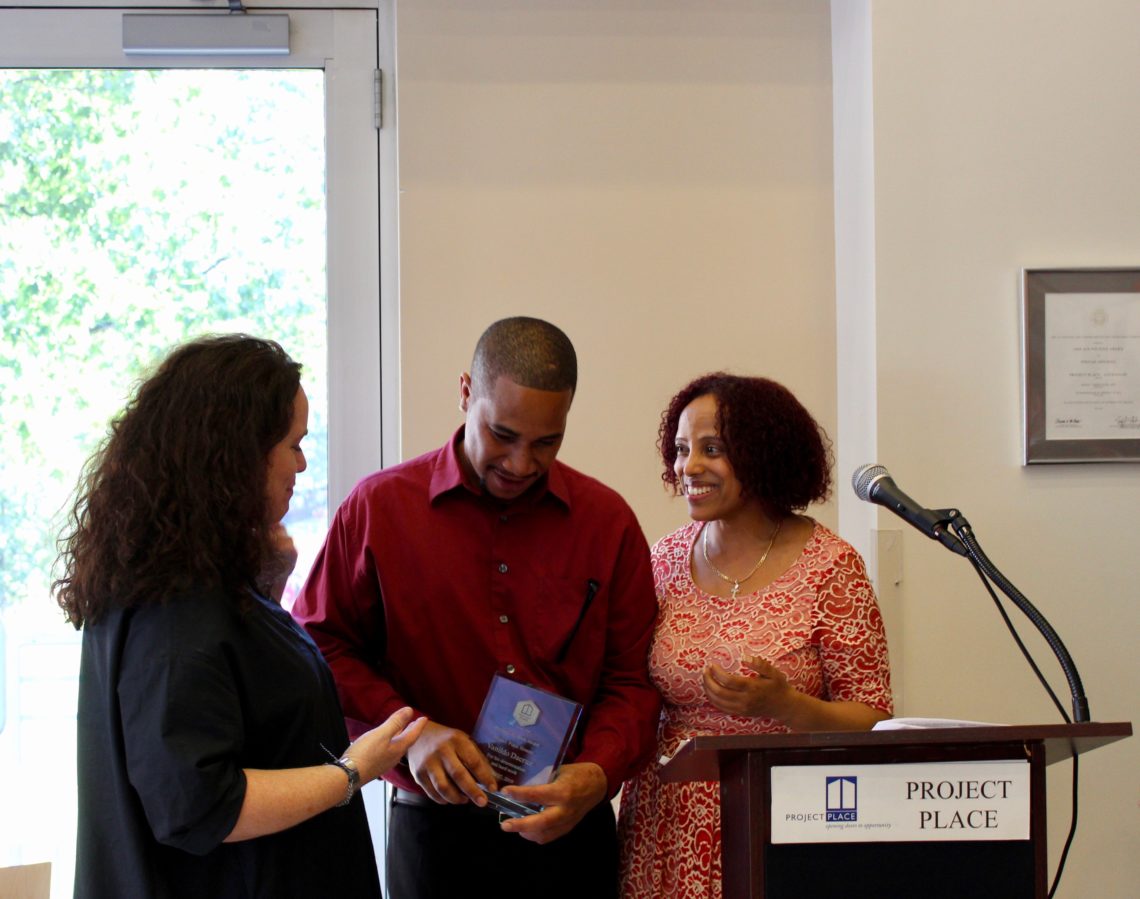 Above: Kara Hayes (Director of Restorative Justice Practices in Suffolk County DA Rollins Office),Vanildo Dacruz (Project Place graduate), Azeb Girma (Project Place case-manager)
Board members, staff, clients, alumni, community partners, friends and family joined us in the Project Place Community Room for our 52nd Annual Meeting and Partners-at-Work Awards. Chef June McCoy-Reid, and clients training in the kitchen, prepared a colorful and delicious buffet for the occasion, which everyone enjoyed as they mingled before and after the program. 
The program included an honorary guest speaker, Kara Hayes, Director of Restorative Justice Practices in Suffolk County District Attorney Rachael Rollins office. Kara spoke on behalf of DA Rollins, who unfortunately could not attend. Kara discussed the shared values of DA Rollins office and Project Place, most importantly the value of seeing the wholeness and humanity of all people. "Like Project Place," she said, "seeing everyone for their true individual self and value is a critical core principal for our office under DA Rachael Rollins. In a world where everyone is looking at their phones, too busy to see the need of the people around them, that's a rare gift."
The program also included an awards ceremony for three distinguished members of the Project Place community. Patrick Knight was awarded the Community Partner of the Year award for helping Project Place graduates obtain employment. He has hired several of our graduates at his business, Highbridge Concierge. Patrick genuinely cares about creating opportunity that will pay a livable wage and create a career path. He takes a personal interest in the success of his employees – he's an employer but he's first and foremost a caring human being.
Colleen Reilly was awarded the Volunteer of the Year award for sharing her kindness, passion and talents with our community. Two years ago, Colleen began volunteering her time at Project Place and has provided yoga and meditation instruction to clients and alumni, the women participating in CREW at the Suffolk County HOC, as well as to Project Place staff. She has also lent her talents to producing this year's video, A Day with Project Place. Colleen was member of our 2019 Gala Committee, meeting over a nine month period and contributing to our success. Colleen also plans to volunteer at Project Place in July, facilitating a creative writing workshop for clients. She took the time, she gave us her talents, and she gave us her heart. We are so thankful to Colleen for caring so passionately, and for giving a voice to those we serve, so their stories are heard. 
Every year Project Place recognizes a graduate who best exemplifies the strength and commitment it takes for individuals to overcome adverse circumstances. This year, we recognize Project Place graduate, Vanildo Dacruz. Vanildo is honored for his determination and hard work. Vanildo shared his story with the audience last night:
"Every time I walk into Project Place, I feel like I'm at home, because people recognize you and ask if you need help. The times when I've come in here I've been down and out, feeling like giving up. But as soon as I leave, I'm full of strength again. After 2013 (when he first came to Project Place), I had a couple years clean. I got married, things were good. But then, I got a divorce, I fell off. I started the same cycle all over again. I came back here and saw Azeb my case-manager. Soon after that, she put me in Clean Corners where I met Speedy (Joel Reyes, Clean Corners supervisor). At the time, I was living in Fields Corner. I didn't have a dime to my name. But I walked from Fields Corner all the way here every day, just to do the job, because determination was key. So after a couple months here, re-writing my resume and getting some references from staff, I acquired a job at Reebok. I have health insurance. I have life insurance. I have a 401K, I have a pension plan. I have my own house. I have dignity and I have respect for myself again. There's nothing I wouldn't do for Project Place. Now I'm able to volunteer my time to this place or just do some outreach, speak to other people about this place, so they can have the same opportunity that I did."