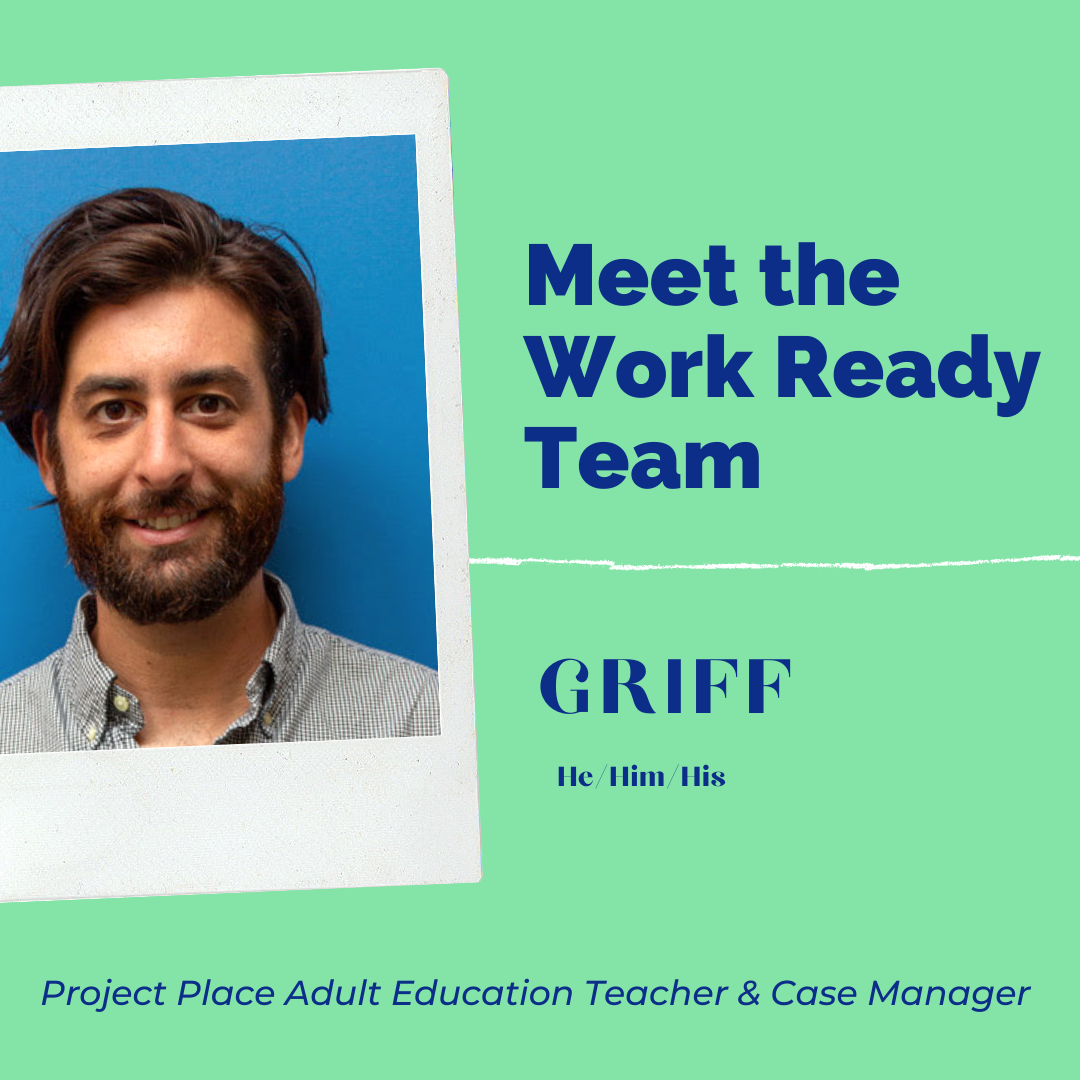 What is a day in the life of Griff like at Project Place?
"I generally begin my day around 8:00 am by responding to messages from clients that may have come in during evening hours. If it's Monday, Wednesday, or Friday I will most likely be teaching our Work Ready class from 10:00-11:00 am via Zoom. Currently, I'm coming into the office on two days a week to meet with clients by appointment. My client meetings generally involve job application assistance, one-on-one technology help and assistance with classwork (i.e. resume and cover letter writing)."
What inspires Griff to work at Project Place?
"I have always felt passionately about building stronger communities wherever I can. Project Place's capacity building model is aligned with what I have learned to be the most effective methods for improving communities everywhere.
Project Place understands that the best way to make communities stronger is by giving the people in those communities the skills and resources they need to better their own lives and those of their neighbors."
What would you like people to understand about the challenges that individuals experiencing homelessness and poverty are facing during this pandemic? 
"The digital divide is real and has been exacerbated by the pandemic. People who are in reentry from incarceration or simply transitioning from a manual labor career often have not had the exposure to basic technology that tech literate people are exposed to and use on a day-to-day basis. Learning these new skills are crucial to navigating the modern world, whether it be applying to jobs, enrolling in healthcare or just finding your way around the city."
What are you working on that you're most excited about right now? 
"I have become very involved in Project Place's Diversity Equity and Inclusion (DEI) group and am very excited about how it is progressing as a safe space for staff to express their own identities and how these identities are impacted by work at Project Place. Particularly, I'm excited about my role facilitating the Social Justice Forum, within DEI, as it progresses from a loose discussion group to an intentional and actionable working group."
Outside of Project Place, what would we find Griff doing?
"I skateboard almost every day! You can often find me at the Hyde Park skatepark or Lynch skatepark in Cambridge. When I'm not skating I'm usually hanging out with my partner and our two kitties."