Program: Project Place Enterprises
Timeline; 1-3 months
Project Place runs 3 businesses that help clients gain hands-on experience. This is useful for building an impressive work history and updating resumes. Trainees are hired by Project Place after completing IIP. The things learned in IIP will align with the enterprises so they line up perfectly. Trainees work 20 hours per week on a flexible schedule. This helps to accommodate family and personal life. Trainees also earn a regular paycheck. This is a good opportunity to save up for housing or other big life expenses. During this time, trainees work very closely with career services. Now is the perfect time to search for a permanent position to transition to. Trainees will find an inviting community in the enterprises. They are able to engage with coworkers, learn the structure of a job, and practice without fear of failure. For many clients, experiencing this success is key to building confidence. Supervisors write recommendations for each worker, which is a valuable asset for seeking future employment.
The three businesses we operate are:
Logistics Enterprise Apprenticeship Program (LEAP)
Formerly known as Project Pepsi, LEAP is our new logistics business. LEAP provides vending and delivery services throughout Greater Boston. This prepares trainees for a career in transportation, like delivery, and vending. On the job, clients are primarily hired as drivers and loaders. They also receive additional training in specialized skills related to the industry. Knowing common technology and software is a must. We teach about tech common in logistics and customer service. We also offer a working knowledge of monetary responsibility and accountability.
The following groups have relied on LEAP to run their vending machines:
Aberdeen Group, ABM Service,  Ben Franklin Institute of Technology, Cardinal Medeiros Program (Boston YMCA), Federal Management Group, Fresh Pond Apartments, Goodwill Industries, Hearth House, International Institute, John Hancock Insurance, John Hurley School, Joseph Smith Community Health Center, Mandela Apartments, Massachusetts National Guard (Cambridge), Miller's River Apartments, Northgate Condos, Union Square Condos, Webster House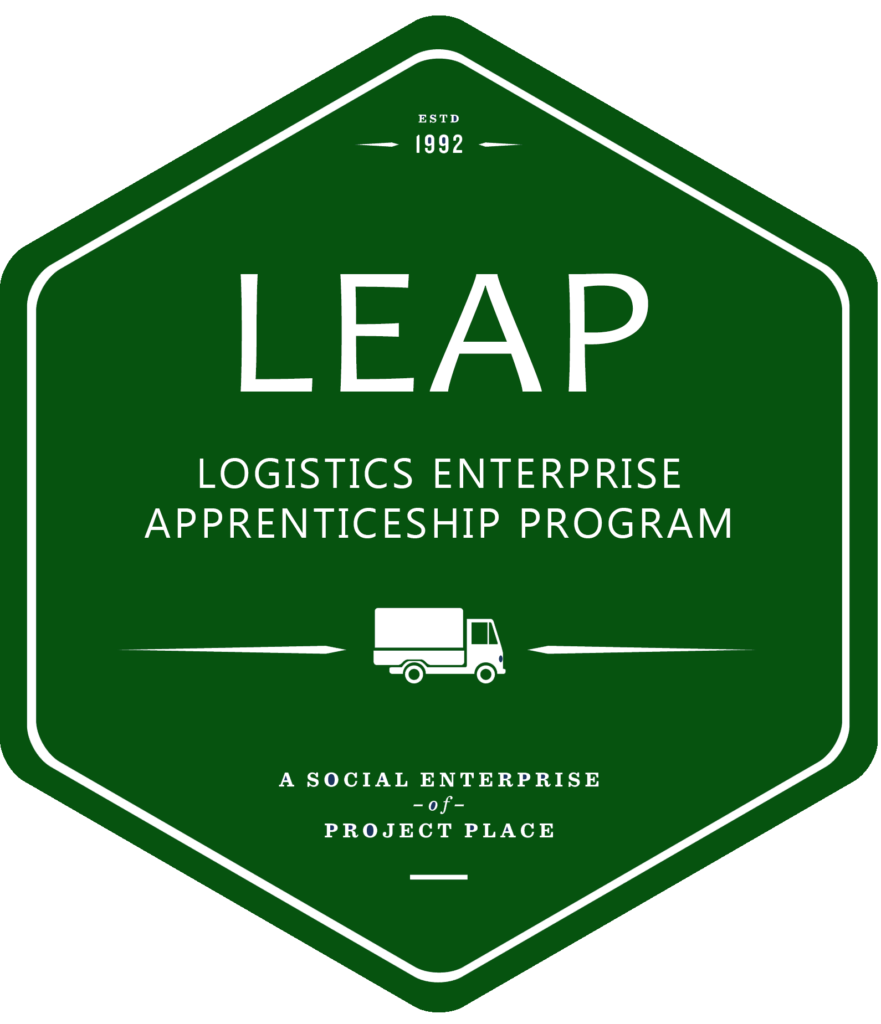 Interested in Partnering with us?
View/Download our Brochure
Working Opportunities for Women (WOW)
WOW offers business services for producers of specialty products. WOW trains women to perform various, what we call, small business operations. This includes things like light assembly and production, packaging and labeling, order processing, order fulfillment, and sales. WOW is built to help homeless women, particularly mothers, learn to balance work and life obligations, secure their personal safety, and change their lives through work.
In conjunction with Working Opportunities for Women, we also run Home Plate. Home Plate is a food preparation internship program where participants provide food and catering services for corporate and private clients. Additionally, Home Plate trainees help prepare daily meals for clients and guests out of the Project Place kitchen. Through preparing for a career in the food service industry, they also develop their customer service and money handling skills.
We are proud to have catered to these organizations:
Bay Cove Human Services, Ben Franklin Institute of Technology, Boston Private Industry Council, Boston Redevelopment Agency, Codman Square Health Center, Massachusetts Shelter & Housing Alliance, New Sector Alliance, Technical Assistance Collaborative, The Boston Foundation, The Community Builders, The Druker Co. Ltd., Urban Edge, Victory Programs
Clean Corners…Bright Hopes (CCBH)
Clean Corners…Bright Hopes (CCBH) is a facilities maintenance and landscaping enterprise. Throughout Boston, they work to provide beautification services. This includes property and facility maintenance services to buildings and neighborhoods through fee-for-service contracts. Clients who participate in this program graduate with skills that transfer directly to a variety of industries. It is a useful enterprise for those looking for custodial services, facilities maintenance, and waste management.
These companies have engaged the services of Clean Corners:
Boston Redevelopment Associated, Boylston Street/Back Bay Neighborhood Association, Chinatown Neighborhood Association, City Year, Cristo Rey School,The Red Sox, New England Holocaust Memorial/Combined Jewish Philanthropies, Boston University/Kenmore Square, New Market Business District, Peter's Park, Community Builders, Beacon Hill Neighborhood Association