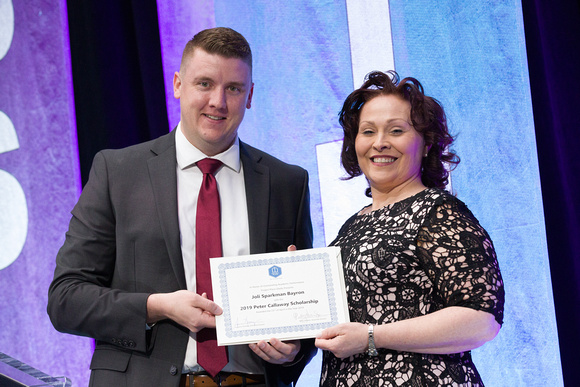 Tommy Walker, 2017 Peter Callaway Scholarship recipient, hands off this year's award to Joli Sparkman Bayron
Photography by: Vail Fucci
Joli Sparkman Bayron works full-time as a reentry coordinator and case manager for Bethany House Ministries, helping men and women recently released from prison find treatment or job readiness programs, housing, and other critical support services necessary to build healthy, law-abiding lives rather than return to criminal behavior.
Sparkman, who is also studying for a master's degree in social work at Boston College, says that long-term incarceration disconnects people from mundane daily activities many of us take for granted. Using a smart phone or navigating public transportation can be bewildering to someone who has long had their life circumscribed by concrete barriers, a cramped cell, and the strict regimentation of their days.
"It's like amnesia when you're put away, you need to relearn all these things again," Sparkman says. "You almost forget how to grocery shop again, you forget how to use money, so you really need a lot of support to do these things. We help people get back into the world slowly and positively."
Project Place is one of the organizations where Sparkman regularly refers her clients. "They offer so many different services," she says, citing our work skills, housing, and social enterprise programs.
She adds that the tight structure of Project Place's programs is incredibly helpful for many formerly incarcerated people. "There is so much structure in prison so I think it's important to be able to have some of that still available to you when you leave so you don't feel like you have a whole day with nothing to do," says Sparkman. "Having a decent place to live and then having a place to go during the day where you can create a whole other life is important."
Sparkman knows all of this firsthand. Before she worked for Bethany House Ministries, she was a Project Place client. And like the clients she now refers to Project Place, Sparkman—who was the recipient of this year's Peter Callaway Scholarship, which is awarded annually to a Project Place graduate who is pursuing higher education and training—learned computer skills and received job training, along with the support and guidance she needed to rebuild her life after serving 18 years in prison for her role in a violent attempted robbery instigated by a man with whom she was romantically linked at the time.
Were it not for Bethany House and Project Place, Sparkman says her life after incarceration would have stagnated, as she likely would have returned to the same environment that led to her criminal involvement.
"I wouldn't have had a life to build and to grow," she says. "I would have had no growth. Moving forward is so important. Not going back to where all those same things happened, I think, is really important because there's trauma in those events."
But finding the services and support she needed to build a new and better life post-incarceration was difficult. Sparkman was released on parole in October 2015. But before she could walk out the door, she had to be accepted into a re-entry program or sober living situation. She applied to 17 programs but none of them would have her either because her parole conditions required her to wear an electronic monitor or because they did not accept applicants convicted of violent crimes. Sparkman was further hindered in her search by the fact that there are simply fewer programs for women than there are for men.
Sparkman got lucky when she finally made contact with Bethany House Ministries. Though their sober housing program was intended for men, when founders Sr. Kathleen Denevan and Sr. Ruth Raichle met Sparkman and learned of her plight, they decided to give her a chance and made space for her at Bethany House.
Today, Sparkman's life is secure and stable. It's stark a contrast to her upbringing in Rochester, New York, which was characterized by abuse, abandonment, and familial incarceration and substance abuse. As a teenager, Sparkman became involved with abusive men and engaged in survival crimes as she struggled to provide for herself and her three children.
"It took me a long time to get through everything that I needed to get through. It took me a lot of therapy," she says. She says she didn't initially make the most of her time in prison, and the monotony drove her to attempt suicide. She was placed in solitary confinement.
Ultimately, Sparkman decided she needed to use her time more productively in order to leave a better legacy for her children. She completed every prison program available to her. She took classes and earned transferable college credit. "I just really embraced my life and matured. I really just started to be the best person that I was. I became who I was supposed to always be and just never had a chance to be."
Sparkman says the combination of self-motivation and community support were what enabled her to be successful. If someone isn't willing to accept responsibility for their behavior and learn new and healthier ways of coping, then no amount of incentives and assistance will help them. But for the people who are ready, says Sparkman, they can't do it alone.
"They need support. They need a good, successful place to live; they need a job, they need people to take a chance on them," she says. "They need places like Project Place."