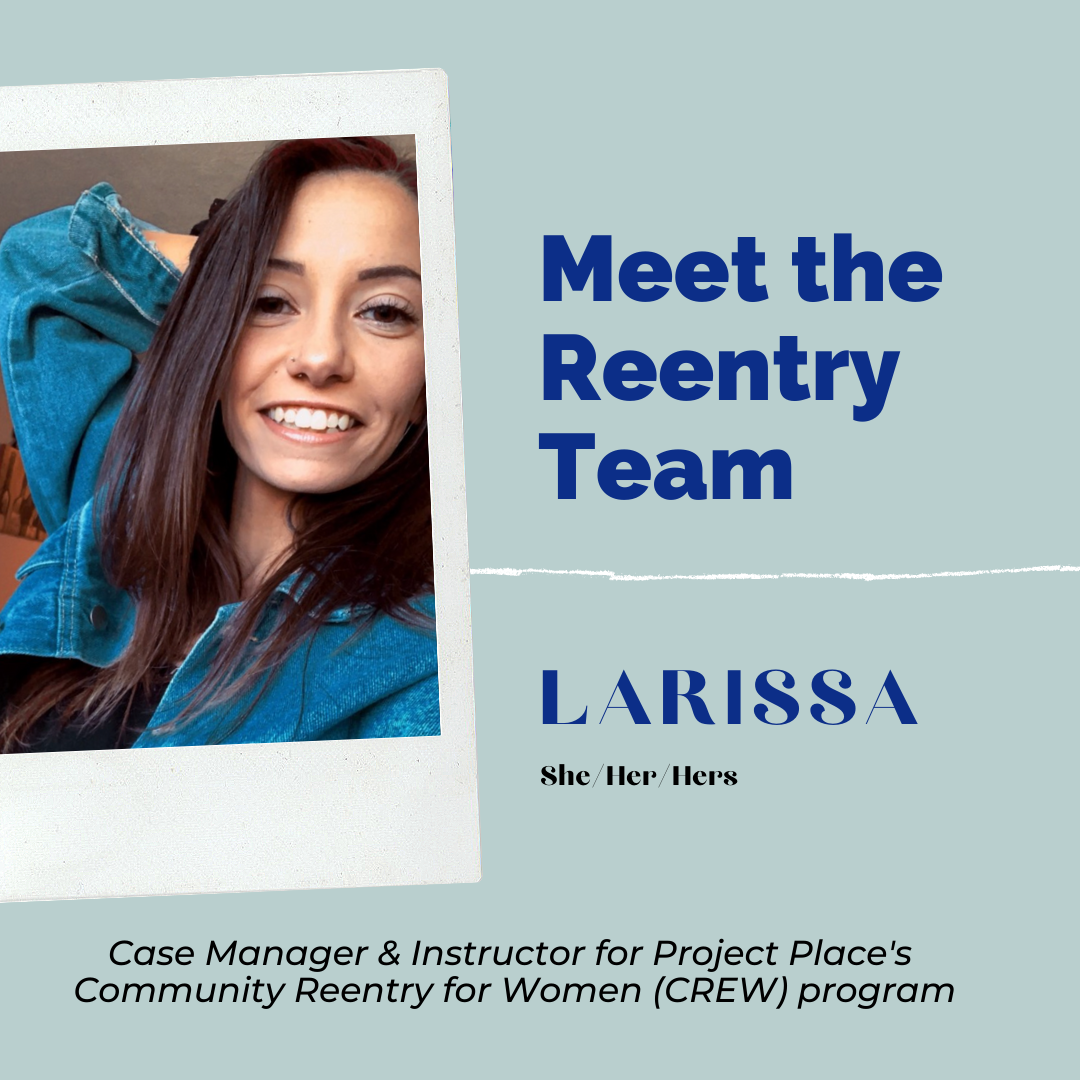 What is a day in the life of Larissa like at Project Place?  
"A day in the life of Larissa at Project Place is fast paced and ever changing! Some days, I am working vigorously to implement new ideas into curriculum or building out a project to introduce and share with our clients! Other days, I am calling and checking in on my caseload or receiving calls from folks asking for a wide array of supports. Some examples of tasks clients may want support on are seeking long-term housing or employment opportunities, seeking supports when under emotional distress, needing assistance with court or RMV paperwork or needing help applying for DTA SNAP benefits. Pre- pandemic, I would normally teach a 5-week Community Reentry for Women (CREW) curriculum to sentenced women inside Suffolk County House of Correction. The SCHOC requires us to ensure a safe environment for our students, so we had to suspend in-person visits and think of ways to get creative on how we deliver our programming!"
What inspires Larissa to work in reentry? 
"I am always finding new reasons that inspire me to work in reentry. Since I was in middle school, I have developed a passion to serve this population, and that passion has only grown more intense over the years. Related to the general public and environment, citizens who are reentering society have a lot of adjustments to make. It is important to me that people receive the supports they deserve to ensure their most successful reentry to society without a chance of recidivism. I work in this field to show people that you are not just your biggest mistake or your bad decisions. I am honored to say it is my job to make sure the individuals I work with know that they deserve a new, better chance at their own life, and remind them that the power to be our greatest self is inside each and every one of us." 
What would Larissa like people to understand about the challenges individuals face when they are reentering the community from incarceration?  
"Being jailed behind bars is not something anyone can fully understand unless you have gone through it yourself. If I could teach individuals in the community one thing about individuals in reentry, it would be that we are all human and we all make mistakes. Now more than ever inmates are spending more time alone or in their cells due to the pandemic and to ensure inmate safety. Adjusting to the hustle and bustle of society will be more challenging now than ever before, as the differences in lifestyles are stark. Sending letters is one way you can help an inmate inside remain positive and hopeful, and it is in the hands of people who work in a job like me to provide them the supports they may need to remain focused and able to progress. "
What is Larissa working on that she's most excited about right now? 
"Since the pandemic has impacted us across the nation, prisons are surely no exception. We can no longer go inside and teach face–to–face, so we have virtualized our CREW curriculum and will be launching a 3 day a week curriculum for 5 weeks through Zoom! The class involves intensive life skills and cognitive behavioral theory, as well as workforce readiness, and transitional goal setting content. The class is first offered to sentenced women as it will better prepare women for their reentry, and automatically ties them to Project Place discharge planning and case management supports upon reentry. I am excited and grateful to continue to expand our programming to detainees, and clients who have reentered society. " 
Outside of Project Place, what would we find Larissa doing? 
"Outside of Project Place, I am still an advocate for incarcerated individuals. I spend a lot of time reading, writing, and staying informed on new policies that may help us in the work we do day-to-day. If my hands aren't wrapped around a book, I am usually crafting! I love all different medias, from paint to clay, to embroidery and rug weaving. I recently opened a small candle store and have loved working with new scents and herbs to launch! Spending time with my friends and family and exploring new places is also one of my favorite ways to pass my time."