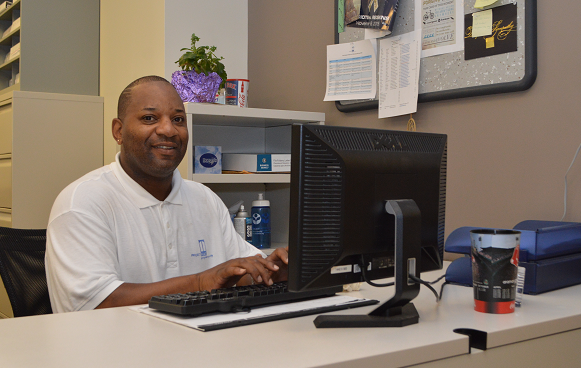 "The U.S. Department of Labor provides
Jobs for Veterans State Grants
through the
Homeless Veteran Reintegration Program
for community-based organizations like Project Place to help veterans who may be at risk of becoming homeless and want to find meaningful work.
Polly Hanson, director of Client Services at Project Place, met with Omar and discussed how the organization could help him get back to work.
During their talk Omar said he had some doubts because he was out of work for so long, and was honest about what obstacles he might face. Despite his concerns, Polly assured him that he deserved a second chance and could have a better life with some help and a lot of hard work.
"It wasn't until I came to Project Place that I found a new way of doing things that is better for me, and that will keep me from going back to jail," said Omar.
The staff at Project Place helped Omar learn new skills to be a successful worker, including how to set goals and having the confidence to achieve them. They said that Omar worked hard every day, maintained an optimistic attitude and took every opportunity that was presented to him.
Through the program, Omar was able to start working for janitorial and building maintenance companies, which allowed him to improve his work skills, gain a paycheck and build a resume. Omar impressed his supervisors at one company and was hired on a permanent basis."
Read the whole article at https://blog.dol.gov/2016/07/07/working-for-a-second-chance/