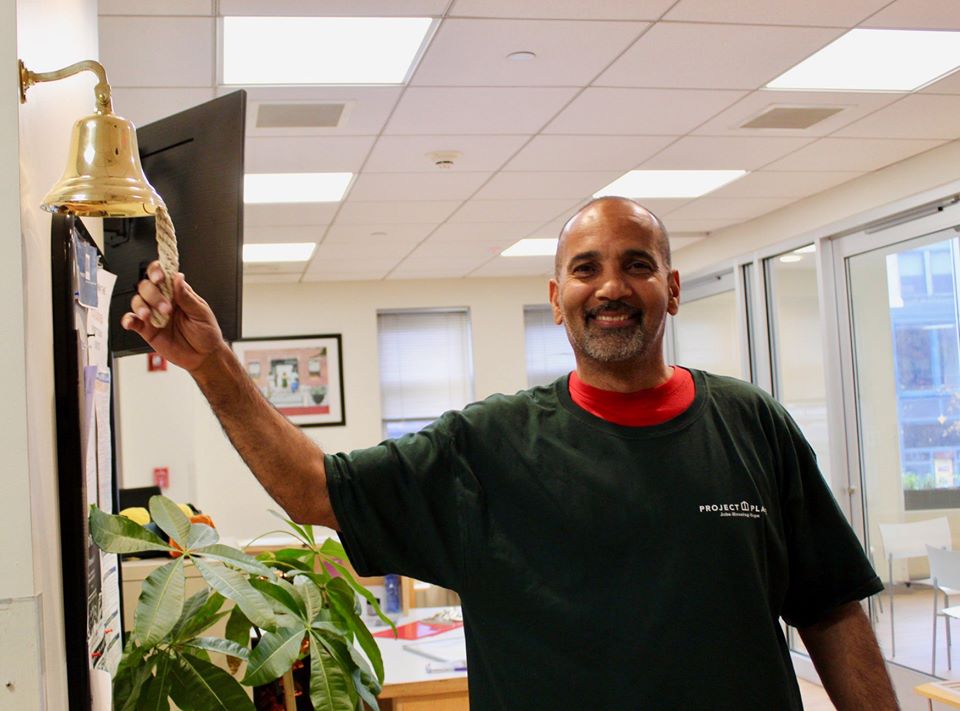 Juan rings the bell in the Project Place lobby to celebrate getting a job!
"We are beyond excited and happy for Juan here at Project Place, especially in the Reentry Department. His hard work and perseverance continue to reward him, and we are so happy to see him succeed in his reentry." – Alex, Reentry Case Manager/Instructor
Juan was released from incarceration in August. He learned about Project Place while he was staying at the Coolidge House, a Community Resources for Justice reentry program. Juan came to Project Place in October and began Work Ready Class, where students learn computer skills, resume and cover letter writing, and professional communication skills. Students also find space to build confidence and practice reflection, as they receive encouragement and guidance from their teachers. Juan says "I learned how to stay focused and communicate with others, because I had a hard time asking for help. Now I can speak with people without worrying what they think of me. l also learned to be patient, something that I was lacking."  
After graduating from Work Ready, Juan joined Project Place's Industry Internship Program and spent a few months in transitional employment in the Logistics Enterprise Apprenticeship Program, driving, stocking vending machines, and keeping inventory. This experience and the positive references from his managers helped Juan to secure a job as a Stock Clerk at Star Market. He then transferred to a position as a Driver at Adesa, where he was recently promoted to Lot Coordinator and received a pay raise. Juan still works at Star Market on Sundays, for additional income. He has been commuting by foot about forty minutes each day in Framingham.  
Recently, Juan's case manager, Alex, helped Juan apply to the Second Chance Cars program. This gave Juan an opportunity to receive a low-cost car and a chance to build credit through a small-loan payback program. On March 11th, Alex and Juan got the news that Juan will receive a car! This will help Juan get to and from work, go grocery shopping, and get to appointments.   
Since his release from incarceration, Juan is dedicated to sealing as much of his CORI as possible. Alex explains, "CORI sealing allows individuals to remove old charges from their record which will give them better opportunities in seeking gainful employment and securing housing. A CORI can be a big barrier for both of employment and housing, the more that can be taken off your record, the better your chances could be." Alex has accompanied Juan to five different local courthouses to petition to seal, and they have yet to be denied by a judge. Alex says, "Each judge has commented on the importance of advocacy and Project Place accompanying individuals in the courtroom for support in their cases."  
When Juan reflects on his reentry experience, he says "I think the community should know that there's a lot of challenges that we face because of past wrong choices we have made. To this day l am still being judged, but now I know that there's a place called Project Place that will help me with challenges I'm facing. Project Place has impacted me in a big way. I miss being around all the wonderful people that work there. They have helped me to stay focused and positive when at times I wanted to give up. I am proud of who I am today – a positive, caring, hard-working individual. Once again, I want to thank all the staff for their hard work."