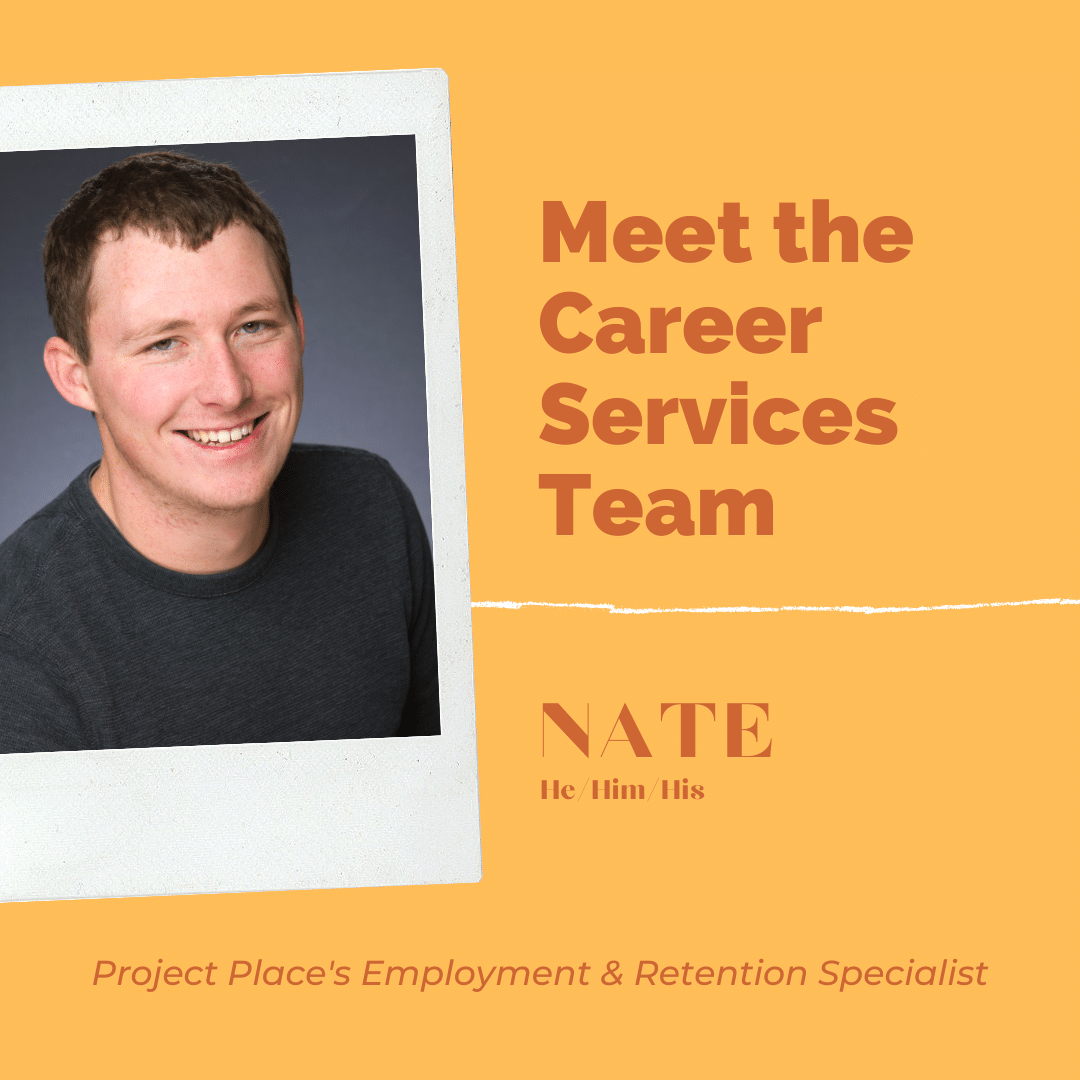 What inspires Nate to work at Project Place? 
"Hearing the stories and experiences clients bring to Project Place and their enduring hope and perseverance inspires me. If they can continue to stay positive and encouraged to improve their situation, I want to do anything I can to help them achieve their goals. There are so many forces working against our clients. Many people never realize how difficult it can be for them. Learning from our clients gives me a better understanding of the world we live in, which only makes me more inspired to work to see progress, one client at a time."  
What is a day in the life of Nate like at Project Place? 
"My day always starts with checking my emails and phone and responding to staff and clients. I then dive into the tasks I have set up for myself, which likely will include checking different job boards like Indeed to see what companies are hiring and for what jobs. I then see what employment opportunities clients are looking for based on the information they give me and will send job postings to them if they are a good fit. I will meet with the clients in transitional employment in our enterprises a couple times a week to check in and help them look for jobs. I might then communicate with different departments regarding the status of certain clients in our programs to make sure our participant data is accurate."  
What would Nate like people to understand about some of the barriers that individuals experiencing homelessness, poverty and reentry face while trying to secure employment?  
"First, I would like people to understand that many of our clients face discrimination as an additional barrier to employment. Our clients rarely get the chance to explain themselves or their situation to employers. This means that they must have everything in line to secure a job. Second, as the world becomes so much more digitalized, our clients can fall more and more behind due to the digital divide. This includes searching for and finding job openings. Most companies now do their entire job application process online and the applications can be quite long and difficult to navigate.   
What is Nate working on that he's most excited about right now? 
"With Covid-19 restrictions lifting, businesses are fully coming back creating many new job openings. This means that our clients have a better chance of getting hired than at any point for well over a year. Although the unemployment rate remains higher than it was pre-pandemic, our clients can achieve gainful employment with better pay due to the high demand for employees that almost all businesses are experiencing. "  
Outside of Project Place, what would we find Nate doing? 
"I really enjoy living in Boston, especially during the summer. Most weekends I will be at the beaches in Southie or going hiking all over New England. I really try to always eat at new restaurants, and lately have tried to go to every rooftop spot in the city. And of course, getting back to Fenway for as many Red Sox games as I can."